Symposium and Poster Session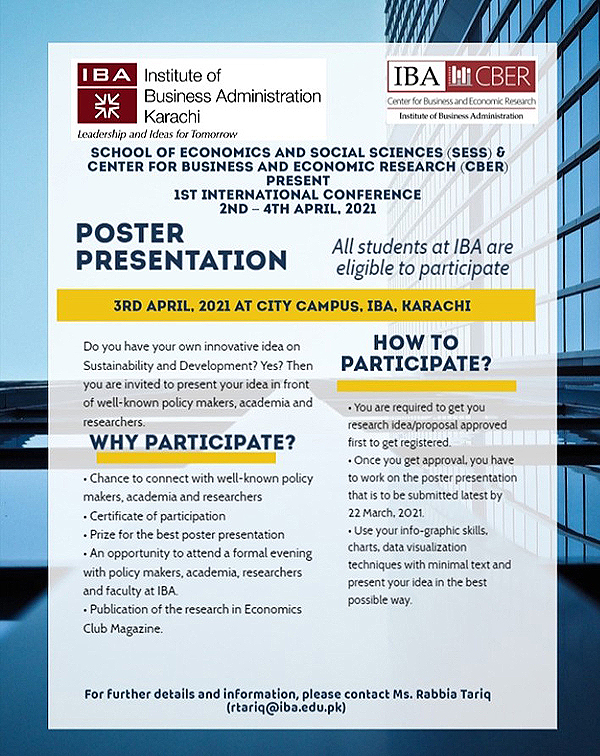 School of Economics and Social Sciences (SESS) and Center for Business and Economic Research (CBER) is organizing the 1st International Conference at IBA from 2nd to 3rd April 2021. The theme of the conference is Economics and Sustainable Development. As a part of this conference, a poster presentation session is also arranged for students at IBA. It is a platform where you can showcase your research in a creative way. You will get a chance to connect with well-known policy makers, academia, and researchers during the conference.
Guidelines for participants:
You are required to get you research idea/proposal approved first to get registered.
Once you get approval, you must work on the poster presentation. It is expected to be innovative consisting of infographics, charts, graphs, and data visuals. It should highlight your research question and findings explicitly. Please contact if you need further guidance in this regard.
Your poster should consist of four A4 size papers. You will be provided an easel board to display your work.
You are expected to submit your final poster latest by 22 March 2021; however, you must submit the proposal at your earliest to get maximum time for poster preparation.
The venue is city campus, and each participant is expected to be present there in person.
The best poster presentation will receive a prize while each participant will get a certificate of participation. Moreover, the selected posters will also be published in Economics Club Magazine at IBA.